Because subscriber acquisition has been challenging... + 5G wireless's impact, & more
‌ ‌ ‌ ‌ ‌ ‌ ‌ ‌ ‌ ‌ ‌ ‌ ‌ ‌ ‌ ‌ ‌ ‌ ‌ ‌ ‌ ‌ ‌ ‌ ‌ ‌ ‌ ‌ ‌ ‌ ‌ ‌ ‌ ‌ ‌ ‌ ‌ ‌ ‌ ‌ ‌ ‌ ‌ ‌ ‌ ‌ ‌ ‌ ‌ ‌ ‌ ‌ ‌ ‌ ‌ ‌ ‌ ‌ ‌ ‌ ‌ ‌ ‌ ‌ ‌ ‌ ‌ ‌ ‌ ‌ ‌ ‌ ‌ ‌ ‌ ‌ ‌ ‌ ‌ ‌ ‌ ‌ ‌ ‌ ‌ ‌ ‌ ‌ ‌ ‌ ‌ ‌ ‌ ‌ ‌ ‌ ‌ ‌ ‌ ‌ ‌ ‌ ‌ ‌ ‌ ‌ ‌ ‌ ‌ ‌ ‌ ‌ ‌ ‌ ‌ ‌ ‌ ‌ ‌ ‌ ‌ ‌ ‌ ‌ ‌ ‌ ‌ ‌ ‌ ‌ ‌ ‌ ‌ ‌ ‌ ‌ ‌ ‌ ‌ ‌ ‌ ‌ ‌ ‌ ‌ ‌ ‌ ‌ ‌ ‌ ‌ ‌ ‌ ‌ ‌ ‌ ‌ ‌ ‌ ‌ ‌ ‌ ‌ ‌ ‌ ‌ ‌ ‌ ‌ ‌
In this issue

› Long-term inactives & never-actives

› 5G's impact on digital marketers

› 'Underappreciated and underfunded'

› MarCom Gold win by Xfinity email

› Poll results: Revenue from triggers?

Subscriber acquisition has

been challenging...

So now is the time to optimize your email signup forms and try to turn more of your email addresses on file into opt-ins. You can also boost your list growth by reducing list churn. But don't go easy on inactives, as you'll regret that sooner or later.

Kaiti Gary
Director of Analytic & Strategic Services
Oracle Marketing Consulting
| | | |
| --- | --- | --- |
| | Most senders understand the need to manage their long-term inactives, but far fewer are managing their never-actives. | |
| | |
| --- | --- |
| 1. | More video |
| 2. | Richer website design |
| 3. | Richer email design |
| 4. | Precise location-triggered messaging |
Inboxroad interview

Oracle Consulting's Chad S. White talks about how marketers should prepare for the years ahead in order to build stronger email marketing programs.
For your inspiration:

Promoting its annual Watchathon Week, this email from Xfinity featured bold key imagery, interactive kinetic modules, and a bright, cheerful magenta hue.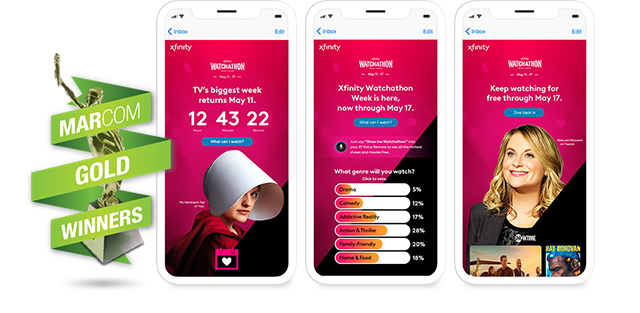 Say

WHAT?

"

Let's be honest—many people sign up for promotional email just to receive the signup incentive. Whether it's a coupon code, free trial, or welcome gift, be sure the incentive is aligned with your business goals and provides an opportunity to upsell the subscriber.

Roald Ansano,
Senior Art Director for Creative Services,
Oracle Marketing Consulting
What do you

SAY?

We asked...

What percentage of your company's email marketing revenue is generated by automated and transactional emails?

You said:

Less than 20%

20% to 50%

More than 50%

*Polling answers are anonymous and only tracked in aggregate.

Here's some of our top content on automated

emails:
Let's work

TOGETHER

Our 500+ experts deliver the tools and expertise you need to achieve more with the leading marketing cloud—including implementation, training, strategy, creative, deployment, and more. Get the conversation going.
Did an email geek forward this to

you?

Subscribe to the newsletter yourself.

Broaden the conversation!

Share this issue on social.

Looking for a previous

issue?

Explore our newsletter archive.
Stay connected with us
Copyright © 2021. Oracle and/or its affiliates. All rights reserved. Oracle and Java are registered
trademarks of Oracle and/or its affiliates. Other names may be trademarks of their respective owners.